How does the Certification of Municipality work?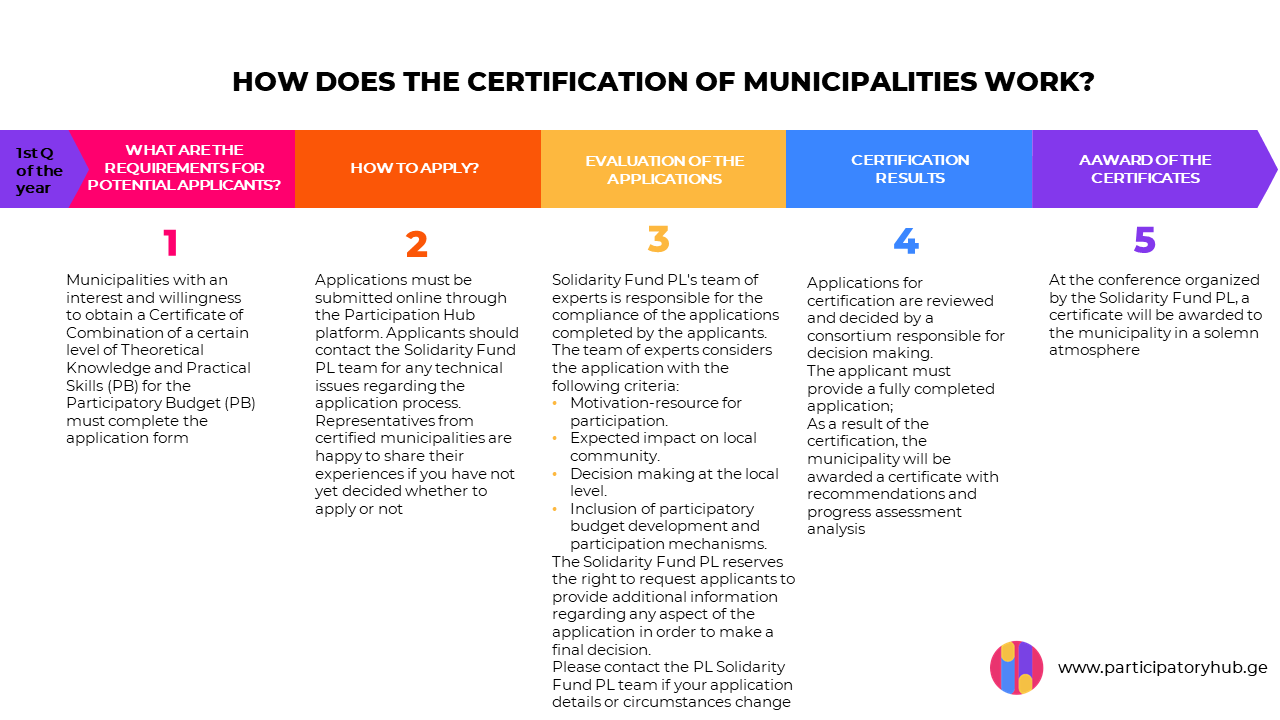 [Subtitle] Dates and time frame]
At the initiative of Solidarity Fund PL Georgia, in the first quarter of the calendar year, an application for certification of municipalities is announced;
[Subtitle] What are the requirements for potential applicants?
Municipalities with an interest and willingness to obtain a Certificate of Combination of a certain level of Theoretical Knowledge and Practical Skills (PB) of the "Participatory Budget" (PB) must complete the application form.
[Subtitle] How to apply?
Applications must be submitted online through the Participation Hub platform. Applicants should contact the Solidarity Fund PL team for any technical issues regarding the application process.
The representatives from certified municipalities are happy to share their experiences if you have not yet decided whether to apply or not.
[Subtitle] Evaluation of the applications
Solidarity Fund PL's team of experts is responsible for the compliance of the applications completed by the applicants.
The team of experts considers the application with the following criteria:
Motivation-resource for participation.
- Expected impact on local community.
- Decision making at the local level,
- Inclusion of the "Participatory Budget" development and the Participation Mechanisms".
The Solidarity Fund PL reserves the right to request applicants to provide additional information regarding any aspect of the application in order to make a final decision.
Please contact the PL Solidarity Fund PL team if your application details or circumstances change.
[Subtitle] Certification Results:
Applications for certification are reviewed and decided by a consortium responsible for decision making.
The applicant must provide a fully completed application;
As a result of the certification, the municipality will be awarded a certificate with recommendations and progress assessment analysis
[Subtitle] Award of the Certificates
A certificate will be awarded to the municipality in a solemn atmosphere at the conference organized by the Solidarity Fund PL.